Describe how S/W/F Boutique has grown and changed since we last spoke.
Since we last connected, the brand has continued to grow at a rapid pace.
We're now stocked in major retailers around the world such as SAKS and have a strong presence across online platforms including Intermix, Revolve and Shopbop.
Further to this, I have been busy working on an S/W/F bridal line that is set to launch later this year.
Our sales and traffic have continued to grow both locally and overseas.
In Australia we have seen sales grow 45% year-on-year (YoY) in 2021, while traffic lifted 116% YoY. 
Internationally, we have seen sales increase by 527% YoY and traffic lift 16% YoY in 2021. 
Meanwhile, our Instagram growth has gone from 50,000 followers in April 2019 to 108,000 today.
You've launched a new namesake brand, Desiree Deravi. Discuss this launch and what the brand offers to the market. 
Desiree Deravi launched in January 2022 and is in its infancy stages.
The business model is currently direct to consumer with the feeling this was the most organic and logical platform to pursue.
Of course, this may change as the brand continues to evolve and builds traction beyond our key market, Australia.
Desiree Deravi is unique to S/W/F Boutique with a focus on clean lines and block colours.
Each collection is limited and leans into ideas of luxury essentials for all destinations.
As with S/W/F Boutique our strategy does not cater to influencer marketing spend, rather opting for a more authentic approach targeting genuine brand engagement.
This makes for a steadier growth pattern and has worked well for us in the past.
You're soon launching interiors – why do you want to expand here? What is your plan for interiors?
The upcoming interiors collection will form its own brand and join S/W/F Boutique and Desiree Deravi under the umbrella of 'Desiree Deravi Brands.'
Upon completing a re-model of my villa recently, I encountered an influx of enquiries around the interior accents profiled throughout.
Each piece in my home has been custom made for the space, and it occurred to me that this interest could propel a natural segue into homewares.
This venture into interiors offers a new arena for my creativity to thrive, applying the principles of fashion design to the concept of 'space' – designing around light, height and the idiosyncrasies of a home, office, studio, or whatever it may be.
It's challenging and rewarding and ensures I'm on a constant journey of evolution as a woman and artist.
The aesthetic to date has been minimalistic, tonal, and irregular in form, however I am about to explore a new style which I'm excited about.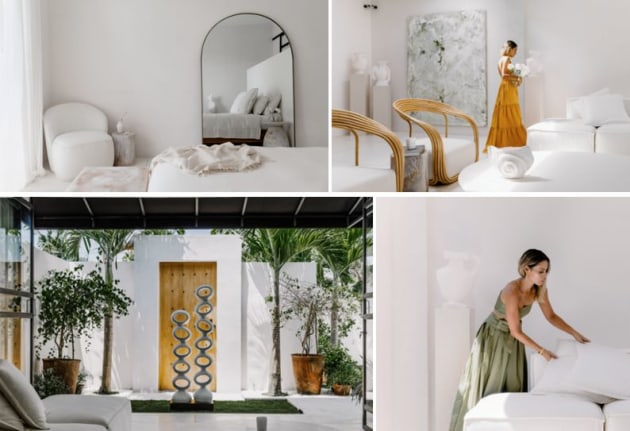 How did you pivot the brands to weather the pandemic?
The pandemic was difficult for everyone and particularly for small business owners.
S/W/F Boutique endured cancelled orders, redundant production runs and so on.
It was big and shocking and we did not have time to adjust, I quickly realised that nothing would change by sitting still and was forced to keep things interesting, so I stepped up, took the reins, and started to try new things.
Community support became the world's greatest commodity, and so I took the lead with weekly IGTV's simply checking in with our followers and opening the floor to conversation.
I am naturally a very shy person, so this was challenging for me, yet I persisted, calling on friends in the fashion, entertainment, and beauty industries to participate and educate on their specialty area.
To start, I didn't feel right about using this connection to push product, however while the rest of the world shutdown, it seemed the Australian market was unaffected at that point and looking for new and limited-edition pieces to buy.
And so, we responded with a series of online exclusives that drove a nice injection of business into the brand.
What are the key challenges the business is facing currently?
While the pace has picked up post-pandemic, we are still recovering and are yet to feel the financial increase across our online and wholesale platforms.
What's next for the brands this year?
We are expanding into the UK, EU, and UAE and for S/W/F Boutique, are working on retailing in David Jones.
We also have an exciting collaboration with an Australian artist in the pipeline … so watch this space!