Shadi Kord and Natalie Khoei met while studying architecture at the University of New South Wales. 
Bonding over a mutual love of fashion, the pair decided to start an Instagram page to share fashion moments they loved, not knowing that this would be the start of their booming eCommerce fashion business Meshki. 
Watching the page grow, the duo decided to start a small shop, listing a maximum of 10 accessories for sale – a small start for the brand that now offers hundreds of on-trend styles. 
Quickly outgrowing the accessories offering, Kord and Khoei decided to expand into apparel, sourcing clothing from local wholesalers in Sydney. 
"We handpicked the styles in a very specific way that was really true to our tastes, that were really classy and neutral," Kord said. 
"We chose pieces that we would have worn ourselves and we bought them in really small quantities," she said. 
Running the side hustle while continuing to study, the pair shot the clothes during semester breaks, sold them during the semester and were responding to customer emails during lectures. 
Investing $200 each into the project, the pair grew the business by reinvesting profits back into it. 
"And it was the best $200 we ever spent," Khoei said. 
And that's still how it operates today, with no outside investment.
A highlight moment over its growth was in 2016 when mega-influencer Kylie Jenner shared a mirror selfie in one of Meshki's pieces. 
"This was followed by Jennifer Lopez and Hayley Bieber with the pieces selling out in days," Khoei added.
"And from this we knew that our customers love being able to dress like a celebrity without breaking the bank.

"In those early stages we really realised the power of influencers and celebrities as an advertising tool and that's something that we've doubled down on ever since," she said. 
Doubled down indeed – the Meshki Instagram account now boasts over two million followers and the brand's pieces have been seen on celebrities including Ariana Grande, Chrissy Teigan and Bella Hadid.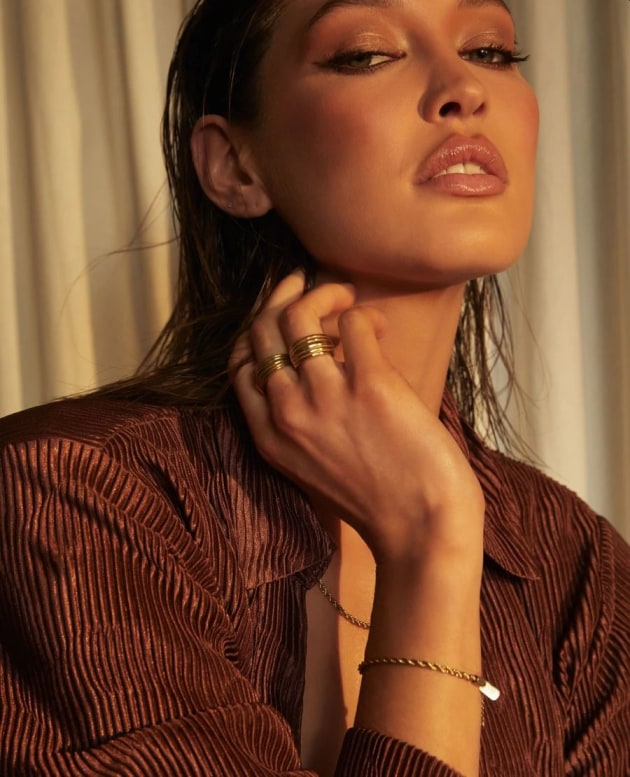 But the account isn't just for show, Meshki drives about 50% of its sales through Instagram and Facecbook, through a mix of organic and paid ads. 
The brand has worked with more than 2000 influencers to date, who have promoted its styles to customers around the world. 
But Meshki won't rest on its laurels, it is pushing into new territory with TikTok, growing its account by 80% to 118,000 followers since investing seriously in the channel in December 2020. 
"We get around one million organic views a month on TikTok so that's definitely a channel that we're looking to expand," Khoei said.
"There's a bit of a misconception with TikTok that it's only targeted towards young teens, but we've found that this is not the case and it's really an amazing channel for scaling globally, fast and finding new audiences in a viral manner.

"TikTok has been a huge growth channel for us especially during the pandemic, we made the decision to capitalise on that wave before the rest of the pack.

"We love to display our signature humour and styling content and interestingly enough, we've seen a direct correlation with sales and we've actually sold out some of our products within days from TikToks that have gone viral," she said. 
While Meshki continues to grow its social presence, it's also planning to grow its international presence too. 
With 60% of its sales coming from international markets – 40% US and 20% rest of world – Meshki plans to have a physical presence in the US in the coming years. 
"We want to get closer to our fastest growing market and be able to provide the same level of service that we provide Australian customers, including same day delivery to our US customers," Kord said. 
"Additionally, we are really investing in more technology and automation – that's something that we're really passionate about – and we are looking at a lot of different programs and technology in order to automate and streamline a lot of our operational processes. 
"We're also looking forward to growing and developing the current team that we have – we're really passionate about how we can bring our team's dream jobs to life," she said. 
Meshki will also move into a new HQ next year, designed by architects who aren't them.