Gucci has unveiled its newest pop-up locations at Sydney and Melbourne in celebration of its new collaboration with The North Face. 
The pop-ups, known as Gucci Pins, showcase the new products in an immersive environment, inviting customers to explore the collections through entertainment, interactive and audio visual experiences. 
The Sydney and Melbourne Pins are also complemented by a virtual Gucci PokéStop inside of the Pokémon Go AR game. 
Bringing the physical and digital worlds together, players who visit the Gucci PokéStops (which include the physical locations of Gucci Pins, ArtWalls, and selected Gucci stores) will have access to three digitally wearable items from the collection. 
Speaking on the Pins, Gucci said that they had been inspired by the outdoors. 
"The collaboration between Gucci and The North Face celebrates the spirit of exploration, building on the mutual efforts to
promote literal and more metaphorical adventures. 
"The North Face x Gucci pins were therefore shaped observing the outdoor, where the encounter of different materials generates geodesic and curvilinear structures, that recall concepts related to the temporariness of landscapes, travels and
explorations.

"Sinuous and domed shapes, covered in the patterns of the collection, welcome visitors in this mesmerising space, where trunks are arranged inside and the spotlights recreate the vault of a starry sky, as seen from the inside of a tent," the business said. 
The Melbourne and Sydney Gucci Pins will trade until January 24 and are located at Chadstone Shopping Centre and at Westfield Sydney.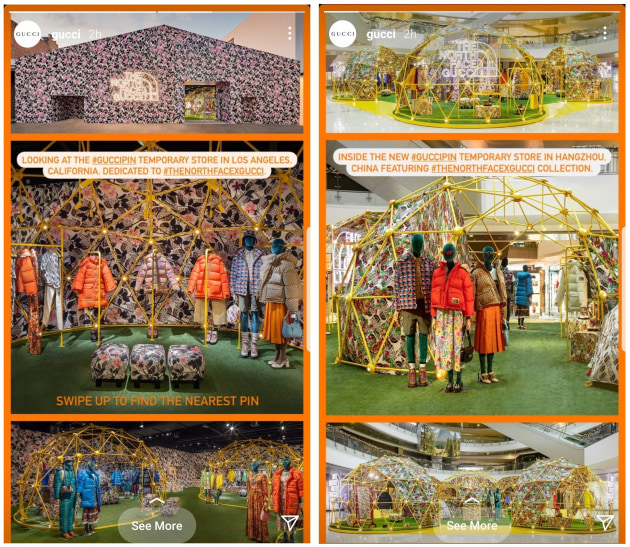 Gucci x The North Face Pins in LA and Hangzhou - images via Instagram