Amazon: the stats are in. 
Hitwise innovation and insights manager Alice Almeida crunches the data on Amazon. This is an exclusive excerpt from our April Edition. To subscribe, head here.
Online retail in Australia is growing. No ifs or buts nor how many professors come out stating it's not, it is.
The online retail industry has seen a collective growth on average of 7% year-on-year, each month since August 2016.
December was the first time ever that ShopperTRAK (www.shoppertrak.com.au) recorded a huge decrease in in-store traffic for every week leading up to Christmas (average of -14% across the period).
This on its own is a strong enough reason for brands to be 100% confident of their online offering, platform and consumer knowledge.
Consumers are shifting online, so brands need to accommodate this shift.
But there's a much bigger reason and it's lurking on the horizon like an oncoming storm cloud.
Amazon.
Australian consumers are already buzzing about the arrival of Amazon. Aussies love a bargain, it's been proven time and time again.
The biggest online shopping days of last year fell on major sales events – Click Frenzy, Cyber Monday and Boxing Day Sale to name a few.
As brands, you would have witnessed the impact sale periods have on your website but for those who haven't, a great example is Bonds.
This year, they held a Valentine's Day 40% off everything sale which increased their website traffic by 300% for the duration of the sale period.
Whilst sales days are great at shifting stock, sales aren't so great at maintaining customer consistency and this is where the problem lies. The Amazon 'sale' is non-stop. 24/7.
There's no 'sale period'. In fact, they pride themselves on always offering products 30% cheaper than anywhere else and this is why brands should be concerned.
The whispers started mid-last year but when it was announced in mainstream media in November that Amazon was on its way to Australia, interest in the brand jumped significantly.
Since July 2016, the amount of monthly searches for anything 'Amazon' related jumped up 110%, from 5,205 variations to 10,978 variations, with each month building in momentum.
In July, searches varied from 'what is Amazon' to 'how to buy from' and 'how to send to Australia', however they shifted towards 'when is Amazon coming to Australia' and 'how to buy from' or 'how to sell on' in January 2017.
But it's not just search variations that have seen a significant increase.
Web traffic to www.amazon.com.au is up by 30% in the past 12 months and Australians visiting the US Amazon site increased by 5% in the same period.
Let's look at the book industry in Australia. Within one year (2014), amazon.com.au went from the 5th most visited book website, to the 1st where it's held top position since.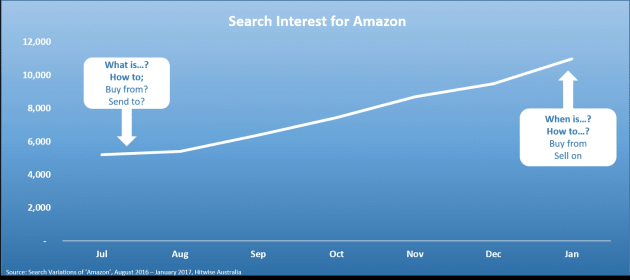 But this hasn't technically been to the detriment of other book sites as they didn't see any decrease in site visitation, but they also haven't seen any strong growth.
There could be many reasons for this; brand loyalty, increase of competition (Book Depository, Booktopia etc), popularity of eBooks & audible books to name a few.
But this lack of growth is a concern for the smaller brands within this category. As Amazon continues to grow, the smaller brands will start to feel the pinch.
Those who are loyal to Australian book brands won't be around forever, (without putting it too bluntly, loyalists to Australian book brands tend to be older) and the new generations coming through are fickle when it comes to brand loyalty. They are bargain hunters who refuse to pay full price.
This is where Amazon will win.
The 'new' Amazon to Australia will offer everything you can possibly think of. There are not many sectors which won't be impacted by their arrival. But what sectors are most at risk?
We took a look at what products Australians are already seeking out through the Amazon US site today (either legally or illegally). We then took a look at what items perform the strongest during hot sale events and there's a very strong theme.
Technology.
50% of the top 25 searches on Amazon.com were technology products; Kindles, FitBits, gaming, laptops, graphic cards, and cameras. The same products were the most sought out on Cyber Monday and in the Boxing Day Sales last year. When it comes to Tech products, Australian's don't want to pay full price. Most technology products are a 'nice to have' but not a necessity.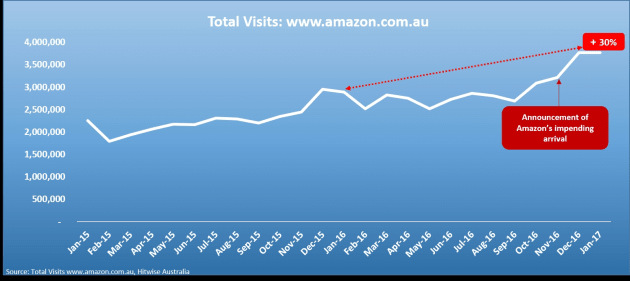 This doesn't mean other sectors are safe, but we believe that those who sell technology products will be impacted more than any other sector.
We are already starting to see people compare products from local brands websites with products for sale on Amazon (US). For example, just over 50% of audiences visiting Harvey Norman, JB HiFi or Kogan are also visiting Amazon, whereas the competition within these three brands is well under 50%. (e.g. Of those who visit JB HiFi, only 24% also visit Kogan).
Other sectors which also recorded a high interest level were kitchen appliances and beauty products.
Very few people who are visiting sites within these categories are also visiting Amazon, however of those currently visiting the Amazon US site, they are among the top items searched for. It won't take much for consumers to make the shift when the products become readily available.
With all this said, awareness of Amazon and it's full offering is still relatively low in Australia.
Between now and their rumoured arrival in September this year, awareness needs to be built as there is a lot of unknowns when it comes to what Amazon will offer.
How they lead into the launch will ultimately determine their immediate success or not, and how brands in Australia manage this dramatic change, will determine the ripple (or tidal) effect of Amazon's arrival on their brand.
When it comes to online retail, consumers have moved a lot faster than the industry. The arrival of Amazon into Australia will shake up many retail brands who have relied on brand name and nothing more to get consumers through their doors.
However, those who are doing online 'right', and those who understand who their consumers are and what they demand, will survive.
At the end of the day, it's about understanding consumers and what makes them tick. Coming into this turbulent time, it's now more vital than ever before for brands to get to know who is buying their products. Without knowing this, you're relying on a flimsy connection which can easily be broken.
Like any relationship, if you want consumers to stick around for a long time, you've got to put in the hard yards upfront to lock them in. It also takes loyalty, trust, communication and a bit of give and take. If brands put customers front of mind in September this year, they stand a great chance of being here in many years to come.