Data firm Semrush has revealed which fashion brands Aussies are searching for during lockdown. 
Analysing fashion retail searches for residents in NSW, Semrush found that top brands included Nike, Asics, Adidas and Cotton On. 
"As NSW settles in for a longer lockdown, comfort and activewear fashion labels have seen an uptick in searches with brands such as Asics, Nike and Cotton On popular with Aussies over the past month," Semrush head of media UK and AU Laura Morelli said. 

Source: Semrush
"However, outdoor wear such as Kathmandu as well as more premium brands such as Louis Vuitton and Country Road have all fallen in search volume in NSW.

"This may be due to the tighter restrictions on travel movements as well as indefinite business closures making Aussie's reconsider more expensive purchases," she said. 
Despite slipping the ranks in NSW, Kathmandu and Louis Vuitton have remained among the top retailers nationally during lockdown June to July 2021. 

Source: Semrush 
When it comes to the overall top ten searches in Australia, "online shopping" at department stores at Kmart, Target, Big W and Myer found themselves in the ranks. 
"Nationally, department stores such as Kmart and Target as well as major food retailers have been among the most-searched by Aussies," Morelli commented. 

"Interestingly, while Coles and Woolworths have higher search volumes overall, there are a number of Aussies asking questions online about cheaper chain stores such as Costco and Aldi's online shopping options," she said.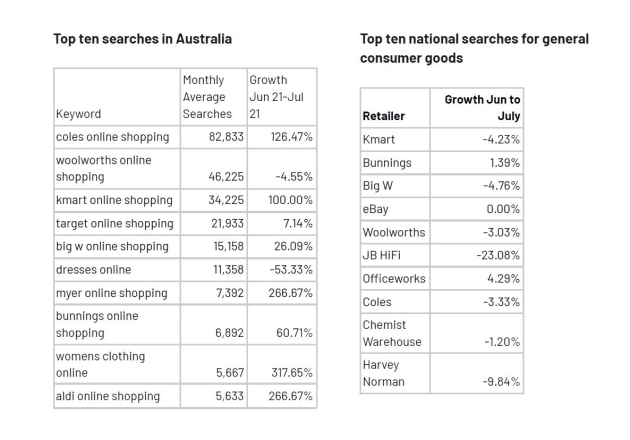 Source: Semrush

To determine the figures, Semrush analysed Australian search volumes for top online retailers over the past month to show
trends during lockdowns for both national searches and regionally in New South Wales.

Semrush's data scientists have used their algorithm to predict percentage growth changes for keyword search engine results for major retailers for general consumer goods as well as fashion.