Leaders from The Iconic, Reebok Pacific and Forever New discuss the power of leadership in times of disruption. 
For many retail leaders, 2020 will be a year they look back on with mixed feelings.
The $340 billion Australian retail sector and its 1.2 million employees had to rapidly adapt to locked-down stores, booming eCommerce sales and a work-from-home model to survive the storm.
The pandemic's impact on retail can't be understated – following the panic buying in March, the ABS reported a rise in retail turnover to 8.5% which was followed by a 17.7% fall in April.
The up and down trend continued, with the fashion sector taking a dive in April, followed by some steady rises, to end up declining again by 10.5% in August.
However, fashion retailers remained steadfast in their commitment to continue serving their customers in the best way possible, embracing the challenge and using it to propel decision making and innovation.
One such retailer is The Iconic.
Already renowned for its innovative approaches to eCommerce, sustainability and product, 2020 saw it ramp its efforts up to roll out new initiatives including a new outlet store and beauty destination.
"History shows that society shifts and new things are born when crises hit," CEO Erica Berchtold says. 
"2020 was challenging for everyone – individuals, businesses and the retail industry – and I'm no exception.
"When faced with the challenge that was COVID-19, we put our foot on the accelerator as opposed to the brake, to launch a number of new customer-focused initiatives.
"COVID-19 forced everyone, both personally and professionally, to become more adaptable, agile, innovative and nimble, so we lent in to navigate these ever-changing times by creating entirely new opportunities for growth.
"Initiatives, ideas and new iterations that would have taken 12-18 months, were executed in as little as three months," she says.
Agility also proved especially important to Reebok in 2020, Pacific  brand director Arnna Johnstone says.
"Agility and 'thinking outside of the box' are no longer optional, but rather necessities.           
"Most pertinently, Reebok Pacific learned about the strength and tenacity of people," she says.
Johnstone explains that the business leaned-on and learned from its global network of people to help it make strategic decisions to trade through the disrupted period.
"Early on in the pandemic, we had insights from our APAC colleagues who had just gone through their first wave of coronavirus.
"Their insights informed us to accelerate what was already a highly successful channel for Reebok and therefore drive our digital and eCommerce strategy even harder.
"Through the support of an inspiring internal team, as well as our incredibly resilient and courageous brand partners, Reebok Pacific achieved its fourth consecutive year of strong growth since bringing             Erica Berchtold   
the brand into the corporate infrastructure in 2017," she says. 
However, it wasn't just the internal teams that retailers were keenly listening to last year.  
2020 demonstrated the importance of listening to the customer and delivering relevant products and content, especially in a market that was consumed by a focus on health and wellbeing.
It was through the act of listening that Reebok was able to pivot its communications to offer customers more encouraging content when the pandemic was first taking hold, Johnstone explains.
In response to this need, the business rolled out its 'Permission to Pause' IGTV campaign, which generated a total of 7,030 views across four videos.
"We noticed early in the pandemic a shift of consumer perception around fear and negativity being perpetuated in the news cycle and on social media.
"People were stuck at home and indoors and they needed outlets. There was a need for connection, physical movement and positive inspiration.
"Our goal is to be the best fitness brand in the world, and we have a responsibility to our customers to provide content that celebrates the fitness community.
"We encouraged them to reach their personal best in their fitness routines through digital storytelling, and let our consumers know its ok to take time for yourself to find balance," she says.
This shift in content saw the brand widen its reach too, Johnstone explains.         Arnna Johnstone (middle)
"For Reebok, it's about meeting consumers face to face with life's challenges and providing content and products that support their needs.
"The conversation is moving from fitness to one of wellness that transcends the fitness centre into the home.
"As a result, Reebok is broadening both its reach and content," she says.
Meanwhile, Forever New showcased its listening skills in 2020 when it evolved its Curve range to match customer requests for more fashion-focused, trend-driven pieces.
The business also rolled out virtual styling appointments in response to stay at home orders, to allow women to shop from home.
Forever New managing director Carolyn Mackenzie says that this evolving approach to retailing is what allowed the business to continue to succeed, even in challenging years such as 2020.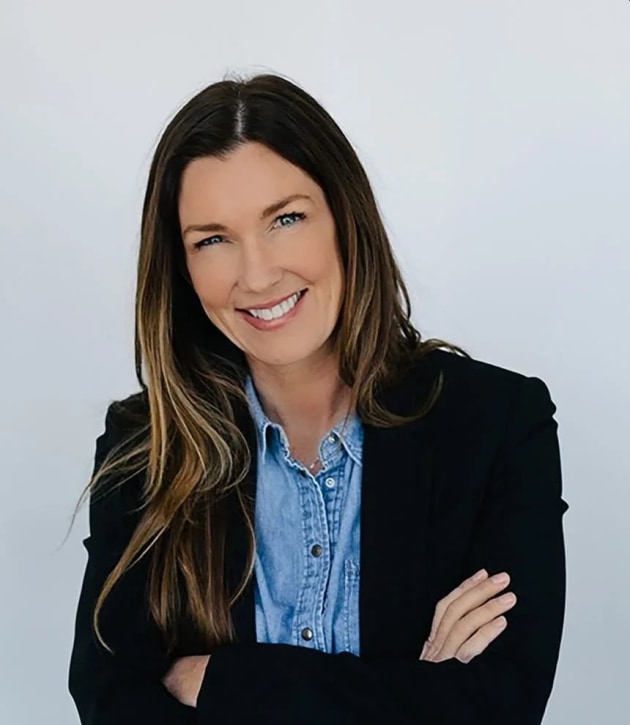 "The adage still stands that brands that understand their customer, have a strong vision and strategy, and deliver what the customer wants each season will continue to succeed.
"I remember one piece of advice early on in my career which has stood me in good stead.
"The advice was never to accept mediocrity because you become mediocre.
"Always strive to be the best and to do your best in whatever you do in your life," she says.
Berchtold adds that the important skill of listening has also allowed her to thrive in her career.
"What I learnt early on was how valuable the simple skill of listening really is.
"No one is born with the know-how; they achieve it by listening and learning from others.                                                                                  Carolyn Mackenzie  
"As an industry obsessed by customer-centricity, it's important to remember that it's only through the act of listening we can have true insight into the needs and wants of our customers," she says.
The need for great leaders was also demonstrated in 2020, with all eyes set on those who were steering the ship through the storm.
And as Mackenzie describes, the mark of an effective leader is how they support their teams to achieve business objectives.
"As well as providing direction, inspiration, and guidance, effective leaders exhibit courage, passion, confidence, commitment, and ambition," she says.
"They nurture the strengths and talents of their people and build teams committed to achieving common goals.
"Early on in my career I struggled to find a home-work life balance," Mackenzie continues.
"Now, I know the importance of surrounding yourself with a team that understands the businesses priorities and are capable of getting on without you," she says.
Meanwhile, Berchtold says that effective leadership means encouraging a diversity of thinking to drive change.
"For me, leadership is not about power, it's about using my voice and skillset to be a force of positive change.
"As a leader, I've always played to my strengths and fostered diverse teams that bring something different to the table.
"You never want to surround yourself with clones that all think and act the same!
"As it's only through true diversity of thought that effective decision making and problem solving is enabled," she says.