There's a new retail calendar in Australia and it's here to stay, writes Azurium's James Stewart.
The last few years has seen a paradigm shift in when Australian consumers spend.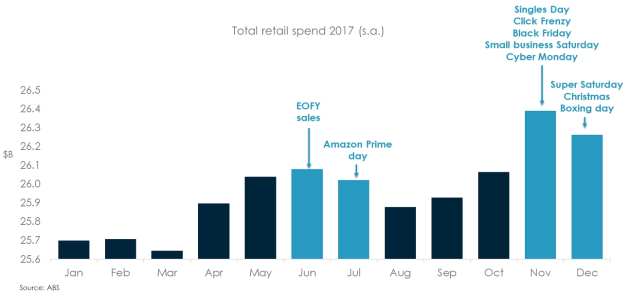 The traditional Australian retail calendar has been predictable and consistent. Sales would steadily increase month-on-month from January, spiking in July and then more significantly in December, in-line with our winter season sales, Christmas and Boxing Day. The holiday season was always the highlight of the retail calendar.

However, the last few years have seen major movements in consumer spending, coinciding with new global retail events previously largely unknown to Australian customer. These retail events, some Australian, but most originating overseas, are the product of the continued growth in online retail and the influx of international retailers operating on a channel agnostic basis delivering a seamless experience to the customer.
June/July
Across the globe, EOFY sales have been used by various retailers for years to clear excess stock and drive cashflow.
However, Amazon Prime Day, launched in July 2015 to mark the Company's 20-year anniversary, has become a significant retail event in its own right, amassing an estimated USD 2.4billion in sales globally in 2017 (Statista). With Amazon Prime launched in Australia in June this year, we expect to see Amazon Prime Day secure a meaningful long term role in the local retail calendar.
November
The greatest movement in Australia's retail calendar has been the pull forward of Christmas and Boxing Day sales into November (at least in part), through a host of new retail events designed to grab first mover advantage over the traditional retail calendar.
Click Frenzy launched in 2012 on the second Tuesday in November is Australia's first national online mega sale. Over 2 million Australian shoppers log on to bag a bargain from more than 500 retailers.
However, to truly appreciate the change in the retail calendar Australia must look abroad.
Thanksgiving weekend is the ultimate U.S. retail event. Headlining the weekend is Black Friday which is the U.S.'s biggest shopping day with 1 in 3 people heading out for a bargain.
The Monday after Black Friday there's Cyber Monday, which is a predominantly online shopping event.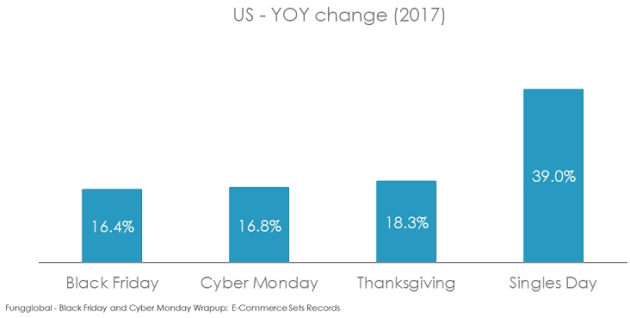 And then comes China's Alibaba Singles Day – which occurs on the 11th of November. Singles Day is arguably anti-Valentine's Day, whereby single Chinese treat themselves to a 'little' retail therapy in lieu of a little romance.
And it's a really big deal.
In just 24 hours last year, over 168.2 billion yuan (US$25 billion) was spent, representing 39% YoY growth; more than 18 times the size of Amazon's Prime Day and six times larger than Black Friday (Bloomberg, 2017).
Singles Day's impact on Australian retail is proving to be immense.
Australian-based Chinese were the fifth-largest overseas consumer group and it was also a boon for Australian retailers, as we became Alibaba's third-largest international selling country, surpassed only by Japan and the U.S. (Retailbiz, 2017).
A survey conducted prior to the 2017 Thanksgiving period identified that less than 1 in 20 Australians (4.7%) expected to participate in Thanksgiving sales, whilst 27% had never even heard of Black Friday, while even less Australians had heard of Cyber Monday (Mccrindle, 2017). This suggests significantly more upside to come for these international retail events.
So what does this all mean?
All these new retail events create both risk and opportunity for the Australian retailer.
An opportunity to enter new markets, via new platforms and engage with new consumers to create fresh sales and margin outcomes.
A risk however when it comes to predicting future performance (financial forecasting) and managing cashflow and working capital as overseas entrants play in our market in ways they never have before.
How does this risk manifest itself?
In short, new retail events drive sales (cash) and capture an earlier margin than the traditional peak period of December.
This margin can be lower than the margin otherwise captured in the traditional selling season as retailers compete for the attention of the customer on a whole new scale. However, we often then see retailers scrambling to capture budgeted sales and margin for the Christmas and Boxing Day season as the customer is fatigued or has simply pulled forward their shopping habits.
Ultimately the complexity of the retail calendar, the management of product flows and inventory levels to allow a retail business to peak at the right time, every time, is impacted by this new retail dynamic - and that puts new pressure on management to perform.