BDO's Mark Schiavello discusses the continually evolving retail landscape and the behaviours retailers employ to remain competitive.
The global consumer and retail marketplace continues to evolve at a rapid rate, driven in large part by natural demographic effects, changing consumer tastes and continuing advancements in technology which have transformed the retail experience for both retailers and consumers.

The demographic segmentation of the global retail marketplace is changing as the latter half of the Baby Boomer generation eases into retirement.

The balance of power now arguably resides with Millennials and Generation Y consumers – who have become empowered by the emergence of the Web 2.0 platform, and the importance of social media in general, and their user generated content in particular, in building brands and driving sales volumes.

As such, the equilibrium has arguably flipped 180 degrees in comparison with the 1950s when earlier generations dutifully bought whatever detergent or breakfast cereals were advertised to them.

The youngest generations are the least pliable that global retailers have dealt with in living memory – and are more informed and forthright in their product and brand preferences.

Generation Z – the first digital native generation which never experienced life before the internet and digital computing – are likely to be even less easily influenced than their parents and older siblings.

Retailers will have to work harder than ever before to encourage consumer loyalty and differentiate their brands versus competitors.

In the past decade, the retail model has continued to evolve as consumers demand a seamless and more personalised shopping experience – often with brands which they feel are relatable and share similar personal values.

At the same time, consumers retain high expectations around convenience and value for money – which has necessitated the use of technology by retailers to lower costs to serve by redesigning supply chains, redefining manufacturing techniques and right-sizing their corporate structures.

The rise of omni-channel retailing has also brought the challenge to retailers of unifying customer experience across all operations.

The recent advent of experiential retail ("retailtainment" or the co-location of physical retail shopping and entertainment options) is also changing the retail terrain while accommodating Millennial's desire for experiences.

Retailers will need to continue to deploy technology in an innovative manner to build and retain market positions against emerging low-cost operators – some of whom are digital natives themselves without the legacy infrastructure of surviving formerly dominant players from previous generations.

Finally, the predicted widespread adoption of voice-activated digital assistants in the home such as Amazon's Alexa and Google Home is likely to herald further changes in competitive dynamics.

The abovementioned continually evolving factors combine to make the current consumer and retail landscape a particularly challenging environment for operators to navigate, and we believe will drive mergers and aqusitions (M&A) activity over the short to medium term, as established players look to leverage acquisitions and divestments to optimise their portfolios, enact growth strategies and deploy capital in transactions which will create meaningful value for shareholders.



Over the first six months of CY2019, mid-market M&A volumes in the global consumer and retail sector declined 20% from activity levels of 1H2018, broadly mirroring the year-on-year decline in total mid-market deal volumes (-23%), and representing the lowest recorded level over the past 5 years.

This decline is largely attributable to continuing global economic uncertainty amidst trade tensions between the US and China, and following the downturn in global equity markets in late 2018 and early 2019.

The consumer and retail sector's proportional share of total deal volumes remained broadly in line with 2015 to 2018 levels.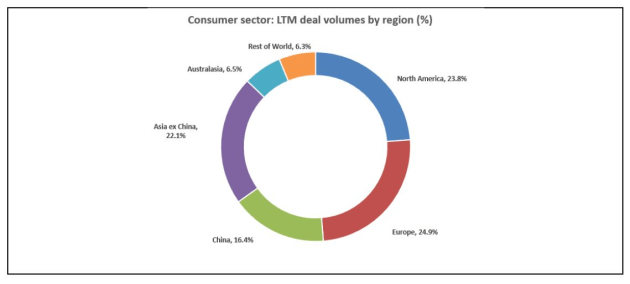 North America continues to be the single largest deal market, comprising ~24% of mid-market M&A volumes over the last 12 months, with China the second contributor of volumes and activity levels throughout the rest of Asia remaining buoyant, driven by the continuing expansion of global majors into high growth regions.

Looking ahead, while we expect muted levels of M&A activity to continue through the remainder of CY2019 (in comparison with prior years), the current deal pipeline suggests that deal volumes will increase in absolute levels over the remainder of the year.

In particular, we expect that deal activity will continue to be strong in the food, food ingredients and beverages segments – the latter supported by continuing positive developments in the global regulatory environment for cannabis (as evidenced by strategic acquisitions by Constellation Brands and Molson Coors in the past 12 months).
Contact Mark Schiavello and learn more about how BDO can help your retail business.
Read more at https://www.bdo.com.au/en-au/our-people/mark-schiavello