Practicology GM Merline McGregor reveals ideas for driving further business in a post-COVID19 world.
As we slowly emerge from what can only be described as one of the most unusual circumstances Australian retail has faced, we possess a unique opportunity to retain the momentum and digital goodwill that brands have experienced over the last 12 weeks whilst also supporting the reopening of bricks and mortar across the nation.
Below are a few ideas for driving further business growth in a post-Covid 19 world.
Metrics – if you can't measure it you can't manage it
Review your site metrics from the last 12 weeks.
How have they changed compared to last year? What has increased and what has decreased? What steps do you need to take to ensure that you maintain momentum online as you slowly reopen your stores?
Our data tells us that year-on-year website traffic is up on average 41% for the month of May, revenue is up 100% and units have increased by 93%
Which of your channels have increased the most? Which key products did you sell the most and why? Using a mix of your analytics combined with keyword search and planning tools will help you understand how the market is shifting and also assist you with being directional in your long-term planning and investment.
Treat new relationships with respect
The last 12 weeks has seen the acceleration of ecommerce penetration, there has never been so many people online in the history of the internet.
Our data tells us that new users are up +55%* for the month of May alone.
Your brand has undoubtedly captured new customers, make sure you treat them so well that they don't look elsewhere, and they become loyal purchasers! The below graph demonstrates the depth of internet penetration in the USA since the global pandemic. Australia has more than likely followed suit, and it's up to you to capitalise on this seismic shift in consumer behaviour.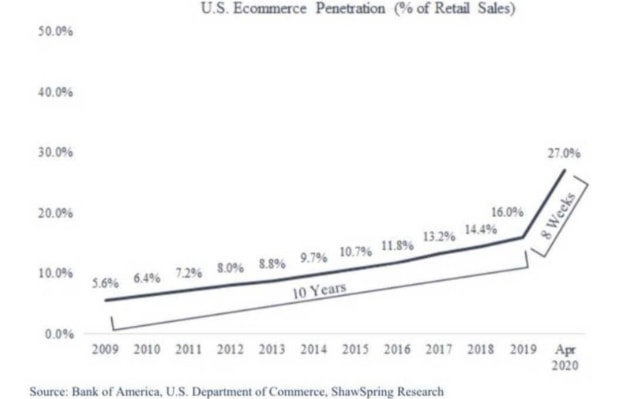 In what is likely to be a cluttered post-Covid world communication-wise, ensure you ring-fence your new customers and create engaging campaigns about your brand and products, rather than batching and blasting business as usual emails.
Use a multi-channel approach and upload your new users for both Social and Google retargeting and awareness campaigns.
Lastly, ensure you track your customers from a lifetime value perspective to work out who is staying with you and what they are buying, and who you are losing and what they are missing from your brand.
Don't forget the basics
In a rush to open your stores and get back to 'business as usual' don't forget the basics.
Update all your customer touchpoints with the most relevant online and store information, including store operations and how you are working to keep your customers safe.
Comb over your website messaging, email links, Google My Business, and social media channels to ensure all the information is up to date. Don't go overboard, Covid-19 fatigue is real!
Fulfilment is the often-forgotten champion of the ecommerce world.
If you've launched new ways to get your products to your customers, keep them! With delivery delays continuing and customers wanting to spend less time in store, be sure to continue to improve on your Click and Collect capability.
Is your store inventory accurate, are the collection processes and turnaround times clear, are your staff educated on the process, are your team trained on the helpful upsell during the collection process?
Be prepared for more returns. Is your policy on returns clear, especially if you've extended the returns deadline? Many brands have changed their returns window from 30 to 60 days, make sure your customer experience is seamless from end-to-end.
Practice Perfect Vision
One thing we are not great at as retailers is practicing perfect eyesight through hindsight.
Make time for a team huddle including your trusted partners and list all the things you did well and would like to continue or extend upon.
What did you want to execute but couldn't?
Find a place on your roadmap for these items. Now is the perfect time to review your digital strategy and determine whether it's equipped to take you into a post-Covid world. Some guiding principles for your strategy would be to remember:
- In FY21 there will be more people shopping online not less, get your customer experience right
- Acquisition activity will become more competitive, you need to start now
- Building and tracking audiences and segmenting communications will be key to growth
- De-risk yourself by exploring many channels to market, including third party sites, marketplaces, concessions and your own ecommerce site.
If you need any assistance in understanding any element of what your digital and ecommerce strategy needs to be for the rest of 2020 and beyond, please get in contact with me: Merline@practicology.com / (02) 8024 599