The Sydney Gay and Lesbian Mardi Gras will welcome Hush Puppies as a supporting partner and official sponsor (of Doggywood at Fair Day) to its 2019 event.
In celebration of the partnership, the Australian Hush Puppies team has created a casual, unisex sneaker which has been dubbed The Official Shoe of the Sydney Gay and Lesbian Mardi Gras.
Furthering its support of the LGBTQI community, Hush Puppies will donate 50% of the profits from the shoe sales to the Sydney Gay and Lesbian Mardi Gras community grants programs, which provide financial support to LGBTQI community groups.
Hush Puppies brand manager, Charlene Perera, said that the partnership ties in perfectly with Hush Puppies' ethos.
"We're excited to be partnering with such an iconic festival that is inclusive of all kinds.
"Our core brand value has always been, 'Welcome to all, exclusive to none' so we feel this partnership is a perfect fit, allowing us to bring this value to life, in a big way!
"More importantly, we love that our consumers will be able to wear and show their support for the LGBTQI+ community both at Mardi Gras and all year round."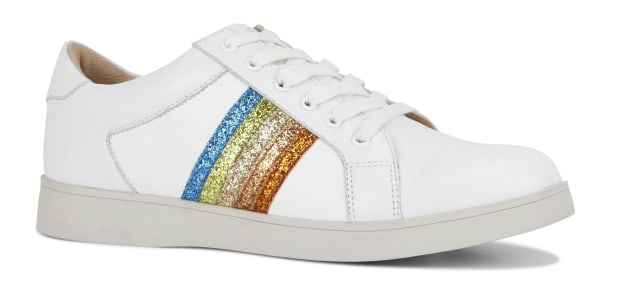 Sydney Gay and Lesbian Mardi Gras CEO, Terese Casu, said that the festival organisers are excited to see the Hush Puppies brand at the Doggywood event.
"This is such a beautiful partnership that we've created with Hush Puppies that will contribute to our community grants programs that support community access and participation in the festival, along with LGBTQI community projects around Australia.
"We're also excited to see Hush Puppies at Fair Day with our wonderful Doggywood," she said.
The sneaker features rainbow glitter details – paying homage to the Pride flag – on white leather and will retail for $149.95. The shoe is available for pre-order on the Hush Puppies website.