New Zealand-based clothing brand Icebreaker, has partnered with long-distance swimmer Ben Lecomte, to support him on a 300 nautical mile swim across the Plastic Vortex in the ocean, to raise awareness about microplastics which are being released from synthetic fibres.
Icebreaker has been developing clothing using natural fibres for 24 years to help to reduce the amount of microplastics that are being swept into the ocean from synthetic clothing. According to research, washing clothing can release up to 700,000 synthetic microfibres per full load, while 35% of the estimated 1.5 million metric tonnes of microplastics in the ocean come from synthetic materials.
These microplastics are naked to the human eye and are therefore being consumed by marine life, which then results in microplastics being present in our food chain.
To raise awareness for the cause, Icebreaker has developed a limited-edition Icebreaker x The Vortex Swim hat and 100% merino wool t-shirt which will become available to purchase in September. Funds from the capsule collection will be donated to research into plastic pollution in the Pacific Ocean.
During the three-month long voyage, the crew will take samples every 30 to 50 nautical miles and will be the first to provide extensive sampling on the plastic pollution in the Vortex and will form the first trans-pacific data set.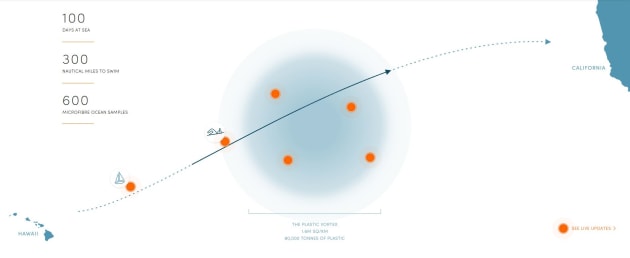 Icebreaker chief brand and product officer Carla Murphy said that everything the brand does is designed to push people to choose natural alternatives over synthetic materials.
"As humans we all have the capacity to drive change, and the more we learn the more we can act and make positive choices.
"People like Ben are not only inspirational humans, they are natural progressives helping all of us see things differently, in a way that enables each of us to better understand and be part of change for good. Everything we do is designed to move people closer to nature and closer to choosing natural alternatives."
Lecomte said that the solution to this problem is everyone's responsibility.
"Microfibres are a growing problem because we don't see them, but we now know that they are everywhere – we have very little knowledge of what impact they have on the human body.

"But we know the cause of it – mostly the clothes that we wash. So anything that can provide a solution to that – alternatives to synthetics, such as natural fabric – is the way to go. We all need to make changes, but to do that we need to understand the problem.

"I want people to understand that the solution is in everybody's hands. We can make better choices and support alternative solutions in our everyday life.

"Hopefully, the more people who understand it, the more people who can make the right choice. It's true when people say, we don't need one person to do it perfectly, we need millions to do it imperfectly," he said.
Lecomte will begin the Vortex Swim in Hawaii on June 08 and is expected to arrive in California in September.