SurfStitch Group and Surfstitch Holdings have been placed into administration.
John Park, Quentin Olde and Joseph Hansell of FTI Consulting will act as administrators, effective immediately.
Administrators claim the Group's online companies are unaffected by the appointments and will continue to trade as normal.
These include SurfStitch (Aus), SurfDome (UK) and Swell (US), and publishing businesses MagicSeaweed (UK) and Stab (Aus & US)
Customers will continue to receive their merchandise as usual and suppliers and employees will be paid in the ordinary course of business.
Administrators have submitted the below chart to detail the relationship between the non-operating SurfStitch companies and the operating businesses.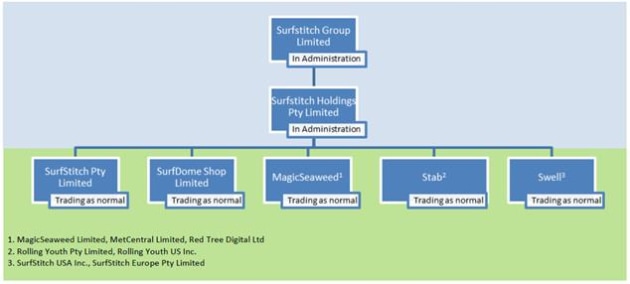 Chairman statement
The chairman of the non-operating SurfStitch companies advised that the appointments were due to several significant external challenges.
This included two Class Actions, protracted litigation and an ASIC investigation which have brought high levels of uncertainty impacting the companies' trading position.
The administrators have been appointed with the intention of preserving value for stakeholders in the business whilst recapitalisation options are pursued.
Administrator statement
FTI Consulting's John Park said administrators will work closely with the operating businesses to preserve value for stakeholders.
"The legal proceedings against the non-operating SurfStitch companies will be stayed following the appointments, which will provide the Group with breathing space to focus on trading into the critical December peak period."
"The administrators will investigate the potential for a recapitalisation of the non-operating SurfStitch companies with the intention of securing a better outcome for stakeholders."
A creditors meeting is expected to be held on September 5.