Rebel is set to open a second Rebel experience concept store in Queensland, at Westfield Garden City. 
The Garden City site will be the seventh Rebel experience concept store for the retailer across the country, joining locations such as Westfield Doncaster and Parramatta. 
Following a major expansion and redesign, the newly launched Rebel Garden City store has increased in size by 50% to 2,100sqm and features the signature concept elements including 'Home of' hubs, interactive zones and retail technology. 
Rebel state retail manager (QLD/WA/NT) Steve Lacey welcomed the opening of the new store. 
"We are thrilled to open our second concept store of this kind in Queensland, and seventh nationally.

"We hope it inspires customers to chase their sporting dreams and passion, which is the ethos of what we do at Rebel," he said. 
The Garden City store will house the 'Home of Basketball' hub, where customers are able to shoot hoops against a mural backdrop designed by local artist James Through. 
The store also showcases a 'Home of Football' hub, which houses boots, balls and equipment, and where soccer fans can play the Rebel football smash game. 
The 'Energy Zone' will feature the latest products each month while the 'World of Running' space allows customers to test out shoes on treadmills, with the help of Rebel's footwear experts.
Additionally, customers can play the in-store video game as their favourite soccer or NFL team with FIFA and Madden on hand.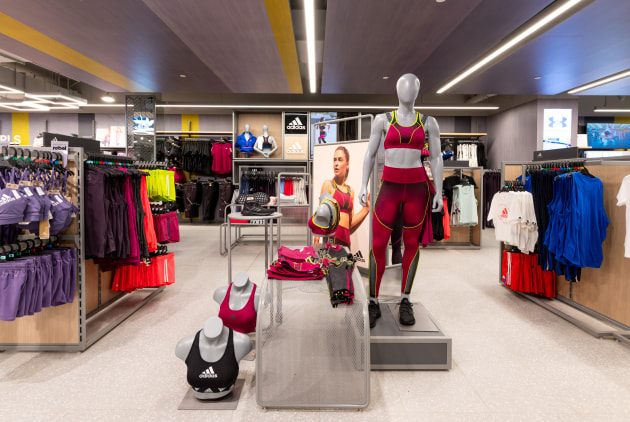 Rebel experience concept Parramatta 
The store will also have a focus on women's apparel, stocking a number of smaller Australian activewear brands including Nimble and L'urv alongside global brands such as Nike, Adidas and Under Armour.

The focus on the in-store customer experience stretches all the way to the fitting rooms, with interchangeable light settings allowing customers to choose from dim to natural outdoor lighting. 
A ribbon cutting ceremony MCed by three-time Olympian Libby Trickett will mark the occasion of the store's opening on November 11. 
Trickett and the Rebel team will be joined in the celebrations by a large array of sports stars, who will be in attendance to celebrate the grand opening. 
Customers can meet NRL players: Kurt Capewell, Adam Reynolds, Katoni Staggs, Payne Hass, Pat Carrigan; Firebirds players: Romelda Aitken, Mia Stower, Charlie Bell; and, Broncos coaching staff: Kevin Walters and Terry Matterson.

NRLW players Ali Brigginshaw, Tamika Upton, Lauren Brown, Talisha Harden, Millie Boyle will be in attendance, as well as NRL legends Matt Gillette, Scott Prince, Petro Civocineva, Sam Thaiday, who will all be there to celebrate the grand opening.
Rebel Garden City opens its doors to the public on Thursday November 11. 
Rebel operates almost 160 retail stores across Australia.