Ragtrader has compiled a collection of social media tributes to Carla Zampatti, a pioneer in Australian fashion. 
3rd April 2021
Legendary Australian fashion designer Carla Zampatti has died in Sydney.

Carla Zampatti is Australia's most successful and enduring fashion designer, launching her eponymous label in 1965. Executive Chairman of Carla Zampatti Pty Ltd, Carla has long been celebrated for making Australian women feel confident and elegant through her exceptional design, tailoring and understanding of the modern woman.
Born in Italy, Carla settled with her family in Western Australia in 1950. After moving to Sydney in her 20s, she produced her first small fashion collection in 1965. Two years later she launched her collection nationally and in 1970 established Carla Zampatti Pty Ltd.
A champion of Australian women and a multicultural success story, she continued to thrive as a businesswoman through enormous radical and social change, designing clothes for women fighting for liberation through the women's rights movement in the 1960s to empowering women today in leadership, the workplace, in their home and at major life events.
She went on to expand her retail network to create a chain of boutiques across Australia and New Zealand and her clothes are truly considered a distinctive part of modern Australian lifestyle. Her designs have been worn by Australia's most influential women from Prime Ministers and Premiers to business leaders, dignitaries, award-winning journalists, royalty and celebrities. They include Princess Mary of Denmark, Dame Quentin Bryce, Julia Gillard, Gladys Berejiklian, Julie Bishop, Nicole Kidman and Cate Blanchett.
Carla Zampatti is the mother of three children Alexander Schuman, Bianca Spender and Allegra Spender from her marriages with Leo Schuman and former Australian lawyer, politician and diplomat, John Spender. She is also the proud Nonna of nine grandchildren.

Her family is very grateful for the support and for the excellent care from the team at St Vincent's Hospital Sydney.
Bianca Spender
On behalf of Bianca Spender, it is with heavy hearts that we farewell Carla Zampatti.
She leaves an undeniable legacy behind, and will remain a constant in the hearts of her loving family, friends and women all over Australia and the world who've enjoyed her designs throughout the years.
"[I've] lost my mother, my inspiration, my mentor and my friend. I am lost for words and totally heartbroken."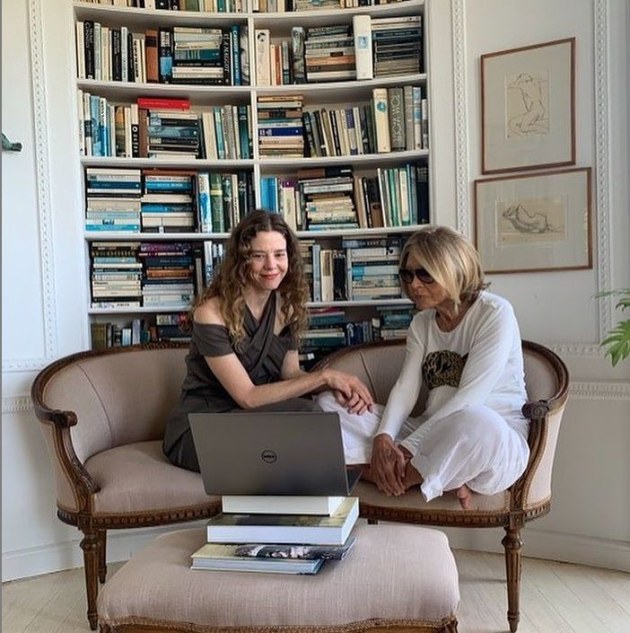 Bianca Spender and Carla Zampatti - Image via Instagram
Toni Maticevski

Heartbroken of the passing of my dear friend and fashion icon Carla Zampatti you forever have a place on my heart.

Your words, your kindness and support have pivoted me always to do good and to do better.

Love love and thoughts with your family. You will always be a true legend. Forever Carla Xxx
Lisa Wilkinson

I simply can't believe the incredible Carla Zampatti is gone.

For all of my professional life I've been loving, buying and wearing Carla. To this day I still wear a gorgeous classic black dress of Carla's I bought on lay-by when I was just 19.

Her pieces were and are, always timeless.

The woman herself was an absolute champion of women - as well as grace and elegance personified. It was always a privilege to be in her company.

And as the following little trip down memory lane in these photos will attest, when it came to fashion, Carla could do it all.

The last two pics show the stunning designs of Carla's exquisitely talented daughter Bianca Spender - and to you Bianca, and all the family, I send my deepest, most heartfelt condolences and thank you for sharing your beautiful mum with us for all these years.

May she Rest In gentle Peace.xxx

Phoebe Garland

Vale Carla Zampatti - An incredible pioneer of Australian fashion. So devastating. What a legacy.

Thoughts to all of her family Bianca, Alex & Allegra.
Adam Worling

I've lost a friend - a giant of fashion and the arts.

Thinking of Alex, Bianca and Allegra and their families at this heart breaking time - Vale Carla Zampatti.
Camilla Franks

I'm so devastated over the loss of my forever muse and treasured friend Carla Zampatti.
Our industry is aching with heartbreak.
Carla Zampatti was our matriarch.
An inspiration, an Australian fashion icon and trailblazing powerhouse. Her grace, wisdom and unique elegance will forever be held in the hearts of an industry which will feel her loss so deeply.
I can't imagine this world without Her. Our designs were worlds apart but we connected through the celebration of women.
These photos are one of my fondest memories with her, on set for David Jones last year. I said to Carla at the time "you really are an Australian treasure", and so now may we long continue her legacy.
I will miss you beyond words my generous, spirited and talented friend.
My heart and deepest sympathy to your beloved family and loved ones.
RIP my beautiful Angel.
Xx Milla

Camilla Franks and Carla Zampatti - Image via Instagram
Megan Gale

Classy, sophisticated, smart and an incredible mother and business woman.

A trailblazer for the Australian fashion industry and an absolute icon. You will be missed but not forgotten. Rest in love & peace 
Alex Perry 

VALE BEAUTIFUL CARLA.

We are heartbroken and sustain a massive loss. The loss of a beautiful, inspiring, creative woman, a tenacious, intelligent businesswoman who paved the way for Australian women... and men in the fashion industry.

You showed us what effortless, elegant, glamorous Australian style could be.

You made us dream of being successful Australian designers, you made us dream of following in your footsteps.

Your relevance in our industry never faltered over more than six decades of making Australian women of all ages feel strong, confident and beautiful.

We owe you a debt of gratitude and celebrate you as a true icon. Rest with the highest beautiful Carla.
David Jones 

Australian fashion has lost an icon.

Carla Zampatti knew how to make women feel fabulous through her exquisite designs and innate understanding of the modern Australian woman.

A champion of women and a true leader, Carla was highly respected outside the fashion world, holding important positions across business and the arts.

Carla joined David Jones in the early 1990s, and became one of our powerhouse labels and an iconic part of our Australian designer stable.

We are thinking of Carla's family, including her children Alex, Bianca and Allegra, at this heartbreaking time.
Kellie Hush

Farewell my beautiful friend and mentor. You are a legend. Fierce and gentle all in one. A very sad day. My love to Alex, Bianca and Allegra.

Carla Zampatti and Kellie Hush - Image via Instagram